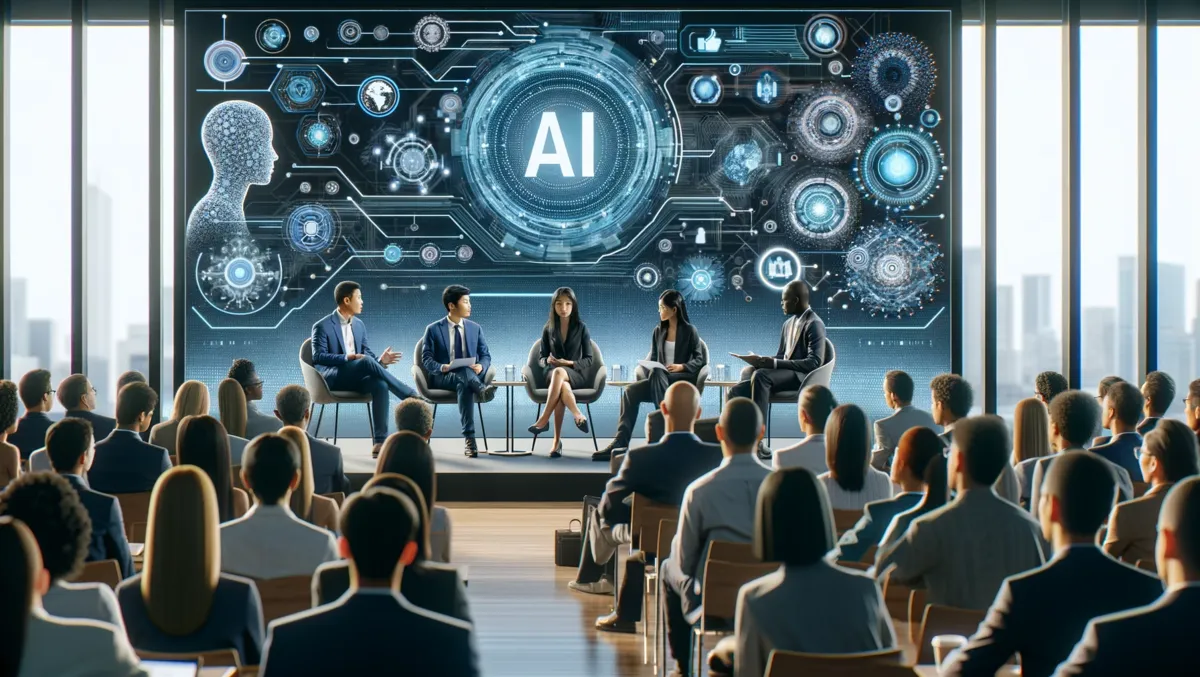 Samsung joins in the Generative AI world showcasing Gauss tech
Thu, 9th Nov 2023
By Sean Mitchell, Publisher
The Samsung AI Forum 2023 has been hailed for its focus on the technological trends and future of generative AI, featuring presentations from leading researchers and the showcasing of Samsung Gauss, a generative AI model developed by Samsung Research. Hosted by Samsung Electronics, the forum aimed to engage AI experts from both industry and academia in discussing the rapidly progressing field of generative AI – a critical shift in technology slated to reshape everyday life and work routines.
"We will continue to support and collaborate with the industry and academia on generative AI research," expressed Daehyun Kim, Executive Vice President of the Samsung Research Global AI Center, during his welcoming speech.
The morning session of the forum saw Dr. Hyung Won Chung from OpenAI, dissecting the operation of large language models (LLMs), their challenges and potential future trajectory in his speech. Jason Wei, a researcher at OpenAI, delved into a discussion on how LLMs are likely to contribute to shifts in the AI scene through his presentation titled, "New Paradigms in the Large Language Model Renaissance."
In addition, Professor Hongsuck Seo from Korea University illustrated the prevailing trends in multimodal AI technology, which is rapidly becoming capable of processing various data types simultaneously. The afternoon session included presentations of leading-edge research papers by graduate students from prominent domestic universities, with discussions surrounding their directions for future research.
There were also presentations from teams led by Seoul National University Professor Seung-won Hwang, Professor Gunhee Kim, and Professor Minjoon Seo from the Korea Advanced Institute of Science and Technology (KAIST), who revealed their advancements in generative AI, spatial reasoning technology and fine-grained evaluation capability in language models respectively. A fascinating presentation by Yonsei University's Professor Jonghyun Choi's team unveiled their text-to-image generation technology which can generate images by deducing lengthy contexts across multiple sentences.
The forum closed with an in-depth look at Samsung Gauss and the On-Device AI technologies based on the model. Optimised for a multitude of applications, Samsung Gauss consists of the Samsung Gauss Language, a generative language model that improves work efficiency by aiding in tasks such as email composition, document summarizing, and content translating. It also promises a more impressive consumer experience through smarter device control when integrated into Samsung products.
At the forum, Samsung also showcased Samsung Gauss Code and a coding assistant (code.i), tools aimed towards facilitating in-house software development. Lastly, Samsung Gauss Image was spotlighted, a generative image model capable of generating and editing creative images with ease, including changing styles, additions, and converting low-resolution images into high-resolution.
The global tech giant further shared its plans to not only continue developing AI technologies but also progress in activities ensuring safe AI usage. Through initiatives such as the AI Red Team, Samsung is steadfast in strengthening its capabilities to proactively address and monitor security and privacy-related issues, from data collection to AI model development, all whilst abiding by the principles of AI ethics.